Advance Review: Smallville "Metallo"
Written by Craig Byrne - KryptonSite Webmaster
Please do not re-post this review on other websites and/or forums. Just place a link to http://www.kryptonsite.com. Thanks.
"Metallo" airs on October 2, 2009.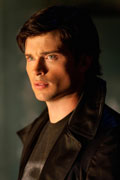 "Metallo" picks up pretty soon after the season premiere, and the characters are pretty much in the same places where we last saw them - Lois is still at the Daily Planet alongside new hire John Corben (Brian Austin Green), and she's still enamored with the Blur. Clark has taken the whole "Blur" thing into a full-time job, spending his time alone, honing his super-hearing to hear those in the city who may be in need. Chloe's relationship with Clark is still fractured, and the Blur is still phoning Lois as one of his only human contacts, even though he is still claiming to be beyond the whole "human" persona.
"Metallo" is not the big-budget blockbuster that "Savior" was, but it is still a solid episode. A big part of what made it solid was the performance of Brian Austin Green as John Corben, a man who following an accident is turned into the Kryptonite-hearted Metallo. Between this and his work on Terminator: The Sarah Connor Chronicles (and even his comedic turn on Freddie) Green has shown himself to be a versatile actor and not just "David Silver from 90210." I hope we get to see him on Smallville again - and if not that, he'd the type of actor I'd love to see in his own series someday (not as Metallo, obviously). As the episode goes on, Metallo becomes more and more unhinged, and Green plays it very well.
There are still some elements that I'm not incredibly gung-ho about. At this point, although Lois and Chloe have some scenes together, it does not appear that Lois knows about the death of Jimmy. Considering Lois was one of Jimmy's closest friends, I feel disappointed that we don't get to see that "moment." Also, while it is so cool to see Metallo in this episode - it's a character and a concept that I always associate with Lex, and I really wish Michael Rosenbaum had been around for this one.
Lois's "Blur" worship is at an all-time high, and we get to see what happens when she is a little too involved with the situation. The fact that the Blur is still contacting Lois adds to the Clark and Chloe rift. Those who want to see some repairs made to the Clark and Chloe relationship will get that by episode's end, though it's not without some conflict coming first, especially as the Blur seems to have taken on a new sidekick in Lois. There is also a visual "Easter egg" for those who support the "Chlois theory." Watch the episode and see if you find it.
There's some clever writing in this episode, coming from writers Don Whitehead and Holly Henderson. A obligatory Terminator reference is thrown in for those of you out there who are still upset T:SCC came to an end. This is also the episode where there are references to Shelby and Mrs. Kent, which I accidentally said was in the season premiere within my "Savior" review. Shelby shows up, and - spoiler warning! - this time he/she is referred to as a girl. Other characters such as Dr. Emil Hamilton and Randall Brady also make return appearances, and Tess gets a new minion complete with guyliner.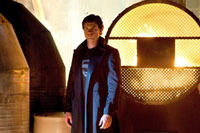 Another part of the story that made me happy is the fact that Chloe points out to Clark that he shouldn't travel around so freely in "costume." This was a concern I had when watching the season premiere, and I'm glad this was addressed so quickly. Clark's new look, by the way, makes for a good silhouette, and there's a very nice scene where we see him from a distance, and you just think if it were red and blue... we'd be seeing Superman.

Also from a graphical standpoint - Corben's cybernetic effects look cool and although the "heart" looks like something out of Iron Man at first glance, its glowing green pulse looks great and gives it its own identity. Fantastic job by the production designers.
The long-awaited reunion between Lois and Tess also happens in this episode, as the characters revisit where they last left off. Seeing the actresses bounce off of each other is a treat, but it's also curious to see if anyone else thinks the two characters are flirting with each other. It makes their scene in "Odyssey" look tame in comparison. On that note - I am very glad that Cassidy Freeman and her character, Tess Mercer, are still on hand for another year - or at least long enough to have her interacting with Lex at some point.
Without giving anything away - I was very happy to see that some of the solutions in the episode were come up with by Clark himself. He's become much more proactive, and I hope to see more of this Clark even after his human contacts are re-established. Now if only he'll put on a pair of glasses when he's not in costume.
Finally, I also want to say that the interaction between Lois and Clark now reminds me especially of what we'd see in the 1950s classic Adventures of Superman. Lois is oblivious to the fact that Clark also happens to be this other person that she talks about, and Clark can't help but listen and grin. It's a nice interaction, and it has fun with the fact that it seems everyone else on this series knows what's going on except for her. I don't know if this angle was intentional on the part of the writers, but it was appreciated. The actors look like they have a lot more fun when their characters are allowed to have fun, and I do feel a show about Superman shouldn't have to always be dark.
The final verdict? If you liked the previous episode, you'll probably like the second. The show needs all of the attention it can get, so if "Metallo" sounds like your cup of tea, be sure to check it out Friday, October 2 on The CW. If I like the next 20 episodes as much as I enjoyed the first two, we're in for a good year. The big challenge will be to create something that fans of ALL characters will be happy with, and hopefully that will evolve as the season goes on.
Here are some extras for the episode for those of you who are interested:
Image Gallery - Preview Scene Screencaps -
Spoilers - Official CW Description