Get immediate notifications of KryptonSite Network updates with the KryptonSite Network Twitter Feed!
Check out our general TV show news site, KSiteTV!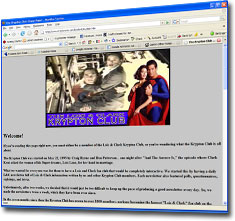 The origins of the KryptonSite Network came on January 1, 1996 when the very first "Krypton Club Home Page" was launched. Though that original website disappeared with our first web host, the "Lois & Clark Krypton Club Newsletter" evolved into Planet Krypton and then found a home at KryptonSite.com.
Since then, other now-defunct companion sites such as GothamClockTower (Birds of Prey) and NeptuneSite (Veronica Mars) have come and gone, as well as AquamanTV which focused on the popular pilot that never became a series, Aquaman (sometimes referred to as Mercy Reef).
Over the years, the site network expanded more with sites likeHeroSite.net, a website focusing on Heroes. Other sites have followed for shows that have also sadly passed, including TerminatorSite, Target419, VisitorSite.net, and others.
With the passing of Smallville, most of our attention is now focused on KSiteTV, a general TV news site which focuses on many current and upcoming TV programs. Check it out! We also are looking into the movie world with Avengersite (for Marvel movies) and JusticeSite.net (for DC movies).
Past Shows & Cancelled Projects
Lois & Clark - Aquaman - The Graysons - Birds of Prey - Bionic Woman - Knight Rider - Buffy/Angel/Firefly - Jericho - Prison Break - Veronica Mars - Kyle XY - Reaper - Terminator: The Sarah Connor Chronicles - Heroes - V -
Superhero Cinema
DC Comics Films - Marvel Comics Films - Wolverine/X-Men - Other Comic Book/Superhero Movies
It is our hope that you like the various sites in our Network and continue to come back. If you have any feedback to share, or anything you'd like to see added to the KSiteTV Network, don't hesitate to e-mail.
Our current sites:
KryptonSite
KryptonSite.com domain launched March 2001
The very first large fan site focusing on The CW's Smallville
Forum with over 40,000 users
KSiteTV
Launched January 2010
All-Purpose TV Show News

PowersTV
Launched February 2009
Focusing on the FX TV adaptation of Brian Michael Bendis' Powers

VampireSite.net
Gallery Launched June 2009
Full Site Launched July 15, 2009
Focusing on The CW's Vampire Diaries

Avengersite
Launched May 2010
Focusing on Marvel movies including The Avengers, Iron Man, X-Men, Spider-Man, and other franchises

HulkTV.net
Launched October 2010
Focusing on Marvel's possible new Hulk TV adaptation
CLASSIC SUPERMAN TELEVISION AT KRYPTONSITE

Lois & Clark @ KryptonSite
Before KryptonSite... there was the Lois & Clark Krypton Club. Take a look at KryptonSite's extensive coverage of the 1993-1997 series starring Dean Cain and Teri Hatcher, including a photo gallery, interviews, and more!

The Adventures of Superman @ KryptonSite
Before Smallville, before Lois & Clark, there was the original Superman television series starring George Reeves. Mini-site includes photos, DVD reviews, and more information about this classic show.

SITES FOCUSING ON DEAD/DEFUNCT PROJECTS

Gotham Clock Tower
News, info, and images pertaining to the 2002-2003 series Birds of Prey
AquamanTV
Site focusing on the Aquaman TV project created by Smallville's Al Gough and Miles Millar and starring Justin Hartley (Smallville's Green Arrow) as Arthur Curry/Aquaman - the project is dead but you can still read all about it!
NeptuneSite
Veronica Mars, KryptonSite style. News, spoilers, and interviews all about the now-cancelled CW cult show
WonderWomanTV
Site about NBC's Wonder Woman revival by David E. Kelley and starring Adrianne Palicki
TerminatorSite
This site focused on Terminator: The Sarah Connor Chronicles featured news, image galleries, and more.
VisitorSite.net
Focusing on ABC's updated V
HeroSite.net
Our Heroes portal
CapeSite.net
Page devoted to NBC's ill-fated The Cape
GothamSite
Page devoted to the briefly-in-development series The Graysons for The CW
KITTSite
Site focusing on NBC's 2008 Knight Rider revival
KnightsPast
Page about a once-in-development project based on DC Comics' Starman
FrequencySite
Site focused on the TV pilot based on Warren Ellis' Global Frequency comic book
Khonshu: Moon Knight at KryptonSite


Canada's No Equal Entertainment announced in 2007 that they would be bringing the Marvel Comics character Moon Knight to TV, but it's apparently never surfaced.

WonderWomanTV
Site about NBC's Wonder Woman revival by David E. Kelley and starring Adrianne Palicki
KITTSite
Site focusing on NBC's 2008 Knight Rider revival
The Flash @ KryptonSite
Page about a very briefly in development WB Flash TV series - includes info on the Flash's Smallville appearance
Fallout! Jericho At KryptonSite
The KryptonSite Network's short-lived Jericho portal
Barnabas Undead
In 2004, the WB planned a new remake based on the classic soap Dark Shadows. Info on the project can be found at this site.
ReaperSite
Site about The CW series Reaper
PhantomSite.net
Site about Syfy's adaptation of the comic strip classic The Phantom