Smallville's Wonder Twins Revealed!
The fifth episode Smallville Season Nine will feature two characters that many are suspecting will be the Wonder Twins - Zan and Jayna - of Superfriends fame.
KryptonSite has now learned that the roles have been cast.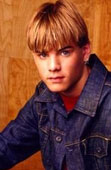 David Gallagher will be playing the role they are casting as "Tanner" which many are expecting as a code for "Zan." Gallagher is best known to WB/CW viewers as "Simon" on the long-running 7th Heaven.
Allison Scagliotti, who recently appeared on Warehouse 13 and includes One Tree Hill and Drake & Josh among her past credits, will be playing Twyla - er, Jayna..
The ninth season of Smallville premieres Friday, September 25 on The CW. The season's fifth episode, "Idol," airs in late October.
Return to the KryptonSite home page