KryptonSite Interview: Annette O'Toole & Michael McKean Talk "Hostage"
Part 2 of 3 - Interview by Craig Byrne - Read Part 1 of this interview! - Read Part 3
Annette O'Toole and Michael McKean return to Smallville as Martha Kent and Perry White, respectively, on the new episode airing on Friday night, May 7.
In the second part of this three-part interview, they talk about reuniting with old friends, new relationships, and more.
Please do not reproduce this interview on other websites; instead just place a link to KryptonSite.com. If you want to use a quote or two, that is fine.
KRYPTONSITE: When Perry White first appeared, he was a bit of a journalistic idol for Chloe. Do those two characters get to interact together again at all in Friday night's episode?

MICHAEL McKEAN: No, we didn't get to see Allison at all on this trip. I think that to be completely speculative, I'm sure that Perry would have liked seeing her again, but I think he feels that there's something about Lois that's got "heavyweight" written all over it. She's the real thing.

ANNETTE O'TOOLE: Not that Chloe isn't, just she's sort of off the radar for him, and for me, too.

McKEAN: It's just the way that the show is structured this time.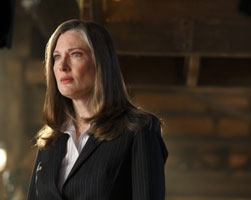 KRYPTONSITE: Is Martha aware that Clark and Lois are romantically involved now, and what does she make of that?

O'TOOLE: She's very happy about it, I think.

KRYPTONSITE: On that same note, how does Clark react when he discovers that Martha and Perry know one another?

O'TOOLE: Oh. It's nice. You want to see that played out. It's hard for me to describe something that's dealt with really well. It's hard. You want your mother to be happy, and live her life, but you also have had a history with this guy, who you know was a drunk, and not a very nice one. He's had a lot of marriages and failures. So, he's kind of torn, I believe. I also don't want to speak for Tom. He's playing that part, but that's what I sort of read on his face.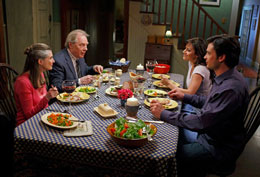 KRYPTONSITE: Have either of you kept in touch with the Smallville cast and crew in the years since leaving?

O'TOOLE: We're very close with John Glover. We were just at his house the other day. I've also kept in touch with Christine O'Connor, who was the hairdresser, and Natalie Cosco a little bit, who used to do the makeup. I didn't get to see Christine, but Natalie came by. And Steve Oben. These are all crew people... and we saw Allison, when she came to see Michael in "Homecoming" in New York.
Smallville's "Hostage" airs TONIGHT, May 7 on The CW. Read Part 3 of the interview and be sure to take a look at a gallery of preview images from "Hostage!"
Return to the KryptonSite home page - Read some more spoilers!