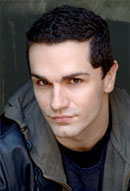 KryptonSite Comic-Con Report: More With Sam Witwer On Doomsday!
Last week, we posted our interview with Sam Witwer and his take on the series' new character Davis Bloome... a man who may someday spell Doomsday for Clark. Now, we have more material to add to the interview - just scroll down past where it says NEW STUFF!
And here you go...
"He is this paramedic in Metropolis - a very cool, conscientious, nice guy," Witwer reveals about his character of Davis Bloome. "He's sort of a perpetual outsider. He grew up in the foster system and had a very tough childhood. He's brought into the story because he forms this fast friendship with Chloe, and eventually he starts blacking out and missing time, and he becomes curious as to why that's happening, and what he learns is really horrible stuff."
"He finds out that he is innately the opposite of whatever he wanted to be. Hopefully the telling of that story will be very sad and psychologically messed up, and it will be probably very easily the darkest stuff Smallville's ever done," Witwer reveals.

"Eventually he is Doomsday, and he will eventually resemble the character that DC Comics fans are expecting," Witwer spoils. When asked if that means he will be wearing prosthetics later in the season, Witwer could not answer. "That I cannot comment on, but I will say that he will eventually resemble what people are expecting," he says.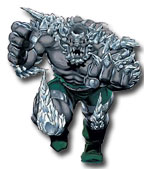 "I just hope that the fans like what we do with it, because it's our own interpretation," Witwer says. "It's with the blessing of DC Comics, and we are not invalidating any of the backstory that Doomsday's had previously, but we are interpreting and adding to that backstory, and hopefully the fans dig on it, and I'll take my best shot at that guy."
NEW STUFF!
Witwer is hesitant to provide too many details on the kind of relationship and interaction his character will have with Clark. "Where that relationship is going, it's a new type of thing for the show. I'll say this: I don't think Clark has had the opportunity to have a friend like Davis, and likewise. I can't get any more vague than that, can I? They're going to have a very unique buddy-buddy friendship. That sounds weird too, doesn't it? I can't talk about it, man. I really can't. It's a really awesome idea, though," he says. He is unable to describe his first scene with Clark as the scene was yet to be filmed at the time of the roundtable discussion. "He meets all of these characters at once, so in terms of his first impression of Clark, it's a hard question to answer because we haven't shot it yet. We're about to shoot it in the next day or so, actually, so I can't get super-specific as to how that's going to go down, but I do know where the relationship is going, and I can't say anything about that either. But! It's a very cool thing," he says. With that comment, Cassidy Freeman reminds him that he is being a tease.
He is, however, ready for a Doomsday/Clark brawl. "He's been asking for it, man. You know. Who doesn't wasn't to take a swing at that guy?" he laughs. "I just hope that the fans like what we do with it, because it's our own interpretation. It's with the blessing of DC Comics, and we're not invalidating any of the backstory that Doomsday has had previously, but we are interpreting and adding to that backstory, and hopefully the fans dig on it, and I'll take my best shot at that guy."
Sam acknowledges that playing a villainous character can be a great challenge. "Playing those roles, it's really tiring, but it's great. It's a great challenge," he says. "I like doing things that intimidate me. When I read the script for The Mist, I was like 'I don't know how I'm going to do that; I don't know how that's going to work out.' Same thing with Dexter. I've had the opportunity to play a lot of things, where I had no idea how it was going to go, and I was intimidated, and didn't think it was going to work out, and it's really tough. It's easier to say the nicer guy, and that's what we're doing right now, so I'm happy. But eventually, again, you do want to challenge yourself, and you do want to stretch, so I am looking forward to exhausting myself," he says.
Some familiar folks made the transition to Smallville easy for Mr. Witwer. "What's cool is there are members of the crew that were on Battlestar, so there were some friendly faces, so that was really awesome," he says.
Having had experience with Battlestar Galactica and Star Wars prior to taking the Smallville role, Witwer is no stranger to projects with great mythologies. "It's really great, because as a kid I was a huge Superman fan, and watched all the movies with my parents, and I'm a big sort of pop culture mythology guy, and so stories like the Superman mythology and the Star Wars mythology, they're significant and they're important, because I think they're great tools for teaching basic morality, especially to kids. So, that's why I'm so into them, and that's why I feel very lucky to be a part of it," Sam says.
With the series' large fandoms, it was asked if Sam checked out what was being said about him online. "I was told [to avoid it] early on, I think Katee Sackhoff suggested that, because she went through hell with that stuff. I try to stay away from it and just kind of do what I think I should do, and hope that [the fans] like it, and eventually it'll trickle back whether people like it or not. I'd rather have that happen in a sort of more natural process than go and seek out every guy has their opinion on how it should have been done or how it wasn't done," he says.
Look for Sam Witwer to make his first appearance early in Season 8.
Read our complete coverage of Comic-Con '08! Sam Witwer - Justin Hartley - Kelly Souders & Brian Peterson - Todd Slavkin & Darren Swimmer - Allison Mack - Cassidy Freeman
Also be sure to read our coverage on our other sites! KITTSite (Knight Rider) - TerminatorSite (Terminator: The Sarah Connor Chronicles)
Return to the KryptonSite News Page
Smallville and its characters are copyright ©2007 Warner Bros. & DC Comics. This is a fan site and not authorized by the WB, the CW, or DC. The term "Kryptonite" is a trademark of DC Comics. Page copyright ©2007 KryptonSite, unless the material is noted as coming from someplace else or being by an individual author. Smallville stars Tom Welling, Kristin Kreuk, Michael Rosenbaum, John Glover, Aaron Ashmore, Annette O'Toole, Erica Durance, and Allison Mack.
PLEASE DO NOT TAKE GRAPHICS, NEWS, SPOILERS, ETC. FROM KRYPTONSITE WITHOUT FIRST ASKING PERMISSION AND PLACING A LINK TO KRYPTONSITE.COM. OR, JUST SEND PEOPLE OVER TO THIS SITE! THANKS!