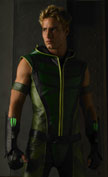 KryptonSite Comic-Con Report: Justin Hartley Talks About Green Arrow In Season 8!
After the Smallville panel at the Comic-Con International in San Diego, the participating actors and producers spoke with members of the press about the upcoming season, and we are now happy to share with you an interview with one of the show's new series regulars, Justin Hartley, as he talks Green Arrow in a roundtable discussion.
As opposed to the clean-shaven Oliver, Justin sported a bit of stubble, almost as if a desert island adventure might be in the offing. "I am about ready to be on an island," he confirms. "We're going to go back into the Smallville mythology a little bit, and kind of explore how Oliver became the Green Arrow, why is he the Green Arrow, and how he became so good at archery, and that kind of stuff. I wish I had a little bit more notice, but we'll see what we can do by tomorrow at 5 o'clock in the morning," he laughs.
Season Eight will make note of the friendship between Oliver and Clark. "They're buddies, they're friends," Justin says. "That's actually why Oliver comes back to look for Clark," he says, inadvertently letting out a spoiler before re-stating the quote replacing "Oliver" with "somebody."
| | |
| --- | --- |
| The new season will provide new challenges for Oliver Queen. "Oliver gets broken down a little bit," Hartley says. "He starts to look at all of the things that he's sacrificed to do what he does, and he starts to wonder whether or not it was worth it, which is kind of cool. I think everybody does that, but I think once you do that, once you start to question something and your heart's not in it, it becomes really dangerous to keep doing it. Because you're vulnerable; you're susceptible. It's like you hear these football players say, if you're not playing 100%, you're going to get hurt. So there's that, and as he starts to question whether or not it's worth it anymore, Clark is starting to embrace his destiny a little bit more. It's interesting, because the guy that wore the suit is going the other way, and the guy that's never even put the suit on is going the other way. We start to butt heads a little bit, so it's going to be a lot of fun." | |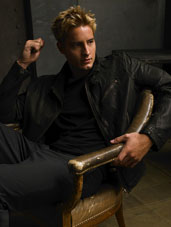 Season Eight is Justin's first as a Smallville season regular. "I was excited. I just shot a pilot [Austin Golden Hour] with Cassidy [Freeman]. She ruined it, and they didn't pick it up," he jokes, "and then a day or two later, I got the call. I love playing the character. I think it's a great show, and a lot of fun for me, so when they said 'series regular' I was definitely interested, and then it was just a matter of letting everybody talk about their things. I'm excited about it, and I have a lot of faith in the writers. They always write good stuff for me."
Read our complete coverage of Comic-Con '08! Sam Witwer - Justin Hartley - Kelly Souders & Brian Peterson - Todd Slavkin & Darren Swimmer - Allison Mack - Cassidy Freeman
Also be sure to read our coverage on our other sites! KITTSite (Knight Rider) - TerminatorSite (Terminator: The Sarah Connor Chronicles)
Return to the KryptonSite News Page
Smallville and its characters are copyright ©2007 Warner Bros. & DC Comics. This is a fan site and not authorized by the WB, the CW, or DC. The term "Kryptonite" is a trademark of DC Comics. Page copyright ©2007 KryptonSite, unless the material is noted as coming from someplace else or being by an individual author. Smallville stars Tom Welling, Kristin Kreuk, Michael Rosenbaum, John Glover, Aaron Ashmore, Annette O'Toole, Erica Durance, and Allison Mack.
PLEASE DO NOT TAKE GRAPHICS, NEWS, SPOILERS, ETC. FROM KRYPTONSITE WITHOUT FIRST ASKING PERMISSION AND PLACING A LINK TO KRYPTONSITE.COM. OR, JUST SEND PEOPLE OVER TO THIS SITE! THANKS!