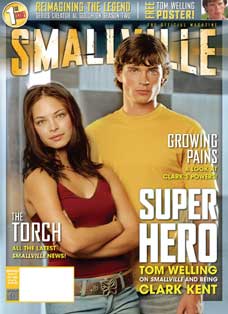 Al Gough In Issue #1 of Smallville Magazine!
Smallville Executive Producer Al Gough is interviewed in the first issue of Titan's Official Smallville Magazine. Thanks to Titan, we can share for you some snippets from the first issue, which goes on sale Sept. 28...
On the concept of Smallville…
'Gough and Millar regularly describe Smallville as puberty with superpowers, "so the idea of getting heat vision in sex ed class seemed like the right way to go…I love the scene with Clark and Jonathan behind the barn trying to control the heat vision."'
On Red which saw Clark go 'from mischievous at the beginning to downright dangerous'
"Something else we wanted to introduce in season two was the idea that when somebody get a power and then it goes away, they don't magically forget everything that's happened. Clark remembers everything that he did. The episode also deals with the fundamental questions at the heart of Smallville…"What if Clark had been raised with no conscience, or by different
people? Superman is who he is because of the Kents."
On the season two death toll:
Gough chuckles as the death toll in season two continues to mount, with Whitney Fordman, season one's super jock and Lana's ex, meeting his maker in Visage, "we were killing off the season one folk…we didn't want Whitney hanging around out there."
On the real theme of Smallville:
For us with Clark's journey and these science fiction elements, there is always a spiritual dimension to them…But at its core, it's about an adopted kid looking for his biological parents."
CLARKS SUPER POWERS
Growing up is a real pain – especially if you're a teenage alien with superhuman powers! You don't just feel alienated from everyone around you – you are, quite literally, an alien.
Read more information about the magazine's first issue here!