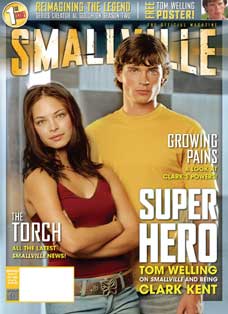 Official Smallville Magazine #1 Press Release
Here's the scoop on the first issue of the Official Smallville Magazine from Titan Publishing, which will be hitting stores on September 28:
The Official Smallville Magazine #1
The first monthly issue of Smallville Magazine is on sale September 28! The long awaited magazine will follow the young Clark Kent (Tom Welling), girl next door Lana Lang (Kristin Kreuk), nemesis-in-waiting Lex Luthor (Michael Rosenbaum), and all the other residents of Smallville as they come to terms and deal with the effects of that fateful 1989 meteor crash!
The first issue sets a high benchmark for subsequent issues to follow!
Tom Welling Interview
The young Clark Kent discusses the challenges of his role, reveals his enjoyment at playing the rebellious Red Clark, and tells Smallville Magazine his views on flying!
The Torch
The first of our monthly round-ups of the latest Smallville news kicks off with a glimpse at what season four has to offer and the new faces that will be seen around the town.
Al Gough
Smallville co-creator and executive producer Al Gough reminisces about season two and explains why Smallville will never have a happy ending! Read part of the interview!
Smallville Map
To aid your understanding of Smallville, its residents, and its comings and goings, Smallville Magazine brings you a fantastic map of this famous Kansas farm town.
PLUS…
Interviews with the Smallville law keepers: Sheriff Ethan (Mitchell Kosterman) and Sheriff Adams (Camille Mitchell).
News of all the Smallville merchandise
Win a copy the Smallville Season One Companion!
A gorgeous free Clark Kent cast poster!
The Official Smallville Magazine on sale September 28!
If you have any trouble locating a copy, contact Express Mags on 1 877 363-1310.
Alternatively, why not start a yearly subscription (12 issues) and ensure that you never miss an issue, by calling Express Mags on 1 877 363-1310 or by visiting
http://www.expressmag.com/pages/products.asp?pr=1&id=2SMALL

Read parts of an interview with Al Gough from the first issue!