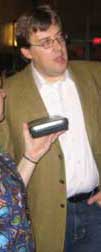 Smallville's Miles Millar At The WB's 2005 Winter TCA
Another person we caught up with at the WB's 2005 Winter TCA party was Smallville's executive producer and co-creator Miles Millar. Only a few minor tidbits, but they may be of interest, so here you go! Be warned of spoilers.
To read our previous report on what co-creator Alfred Gough had to say, click here.
Just like we asked Al Gough at the event, we also asked Mr. Millar his thoughts on Chloe Sullivan's role in the series now that Lois will be on the series a bit more. "This season you'll see that there's certainly room for two, for Lois and for Chloe. I don't think it's stepped on anyone's toes. I think it's added, in fact, a dimension to Chloe, that she has a relative, a sort of sister figure that she can rely on," he said.
Fans of Chloe will, however, have some things to look forward to. "Chloe's got a big arc for the last half of the season, and it's really going to mix things up with the Clark-Chloe relationship I think, in a really cool way."
Regarding a return appearance of Michael McKean as Perry White: "We couldn't really work it out for this season, but he will return," he says, pointing out Michael McKean's incredibly busy schedule.
They would like to bring the Flash back, but "probably not this season." Millar commented that Kyle Gallner as Bart was "really, really good."
Visit the KryptonSite Spoilers Page for more upcoming episode details!

Smallville and its characters are copyright ©2005 Warner Bros. & DC Comics. This is a fan site and not authorized by the WB or DC. The term "Kryptonite" is a trademark of DC Comics. Page copyright ©2005 KryptonSite, unless the material is noted as coming from someplace else or being by an individual author. Smallville stars Tom Welling, Kristin Kreuk, Michael Rosenbaum, John Glover, John Schneider, Annette O'Toole, Erica Durance, Jensen Ackles, and Allison Mack.
PLEASE DO NOT TAKE GRAPHICS, NEWS, SPOILERS, ETC. FROM KRYPTONSITE WITHOUT FIRST ASKING PERMISSION AND PLACING A LINK TO KRYPTONSITE.COM. OR, JUST SEND PEOPLE OVER TO THIS SITE! THANKS!