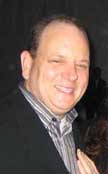 Smallville's Al Gough Talks About Upcoming Episodes
We caught up with Smallville's executive producer and co-creator Alfred Gough at the WB's 2005 Winter TCA party and learned some details about upcoming episodes. Obviously, if you don't want to know any spoilers, stay far, far away:
Gough is enthusastic about the 1/26 episode "Unsafe," and has some great things to say about Episode #13 of the season (airing Feb. 9) which guest stars The OC's Chris Carmack: "I think it's a terrific episode; I think Chris Carmack does a great job. He's probably one of the more memorable Krypto-villains that you'll meet. I think you get to see Lois Lane drinking football players under the table, which just makes me laugh thinking that this is the woman that Clark's going to end up with. And Erica's fantastic."
Fans concerned that there's no place for Chloe now that Lois Lane will be coming back to the series shouldn't worry. Gough addressed a spoiler that had leaked, confirming something the fans have known for weeks. "Now that she's gonna learn the secret, she's gonna know. So that gives her a completely different perspective than Lois." It sounds as though the cat-and-mouse game will continue through to the end of the season. Maybe it's the visitor from the next item who tells Chloe to just up and tell Clark what she knows?
Pete Ross (Sam Jones III) returns in the prom episode, appropriately titled "Prom." Read this news item for more details.
When Lois returns to the series in "Pariah," even though she'll be in many episodes, Erica Durance still will not be in the opening credits. It does, however, sound like a possibility for next year, provided they can get Lois as a regular character.
Gough also mentioned an upcoming episode that will soon be shooting, tentatively titled "Lexes." In it, through a Luthorcorp experiment, Lex is split - good side and bad side. "They both look strangely like Michael Rosenbaum, and you really get to see Lex's dark side," Gough says.
The death of Dr. Swann (Christopher Reeve) will be addressed in the season's 15th episode, which is titled "Sacred." Margot Kidder will not be returning as Dr. Crosby for the episode, but Al Gough does say there is a different way things will be dealt with. (It doesn't sound like Crosby is recast; it sounds like the story has been rewritten. Earlier spoilers implied Crosby would be back.) When KryptonSite's Craig was highly unprofessional and suggested getting another former Superman, Dean Cain, onto the series, Gough said "We'd love to have him."
Regarding a return appearance by Michael McKean as Perry White: "We'd like to bring Perry back, but we want to make sure we've got the right episode to do it. We've spoken to Michael, and he's open to coming back. He's a great character; we want to make sure we've got the right story for him."
Come back tomorrow for some tidbits from Miles Millar! And of course visit the KryptonSite Spoilers Page for more upcoming episode details!

Smallville and its characters are copyright ©2005 Warner Bros. & DC Comics. This is a fan site and not authorized by the WB or DC. The term "Kryptonite" is a trademark of DC Comics. Page copyright ©2005 KryptonSite, unless the material is noted as coming from someplace else or being by an individual author. Smallville stars Tom Welling, Kristin Kreuk, Michael Rosenbaum, John Glover, John Schneider, Annette O'Toole, Erica Durance, Jensen Ackles, and Allison Mack.
PLEASE DO NOT TAKE GRAPHICS, NEWS, SPOILERS, ETC. FROM KRYPTONSITE WITHOUT FIRST ASKING PERMISSION AND PLACING A LINK TO KRYPTONSITE.COM. OR, JUST SEND PEOPLE OVER TO THIS SITE! THANKS!