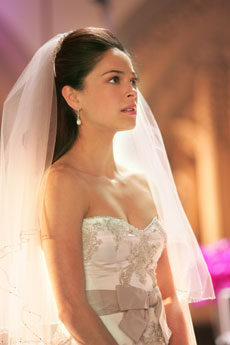 On Location: The Lex & Lana Wedding
Report by Craig Byrne - KryptonSite Webmaster
In January, the cast of Smallville gathered with 250 extras to film what will surely be a momentous occasion in Smallville history - the wedding of Lex Luthor and Lana Lang.
The wedding was filmed in an actual church not far from downtown Vancouver. KryptonSite's Craig Byrne was fortunate enough to attend this event, coinciding with his work on Smallville: The Official Companion Season 4.
"I'm excited because there's a twist nobody could have ever expected," episode co-writer Brian Peterson said on set. "It's phenomenal. It really is incredible to see everybody bringing it to life exactly how you expected it. And the director's doing an amazing job."
"I think the performances are amazing so far," director Rick Rosenthal said. "We're in the middle of shooting, but I've just been blown away by the actors' performances. Having started here in Year Two, to see the growth of all of the actors, it's been amazing, and each one has brought something unique to the party in this episode."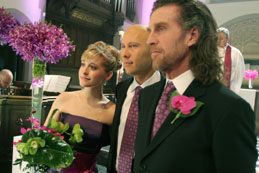 "I think what's good about this episode is that the Man of Steel is powerless to deal with matters of the heart," Rosenthal added.
Here are some of the things that were spotted on set. Be warned of SPOILERS!
- Kristin Kreuk's dress is BEAUTIFUL. It's sleeveless, and complements her very well. The recently-released promotional photos offer you a look at this very lovely design.
- Surprisingly absent from most of the wedding festivities? Tom Welling as Clark. Although, judging from the look on Lionel's face in one take, and again with some of the promotional photos it wouldn't be a surprise if he comes in to crash the party.
- The maid of honor, Chloe Sullivan, is wearing a purple dress with a pink sash wrapped around it. It matches the wedding's flowers and looks great on Allison.
- As Lex and Chloe arrive at the wedding, Chloe looks a little frantic like something might be wrong and she is telling him about it. It was a little difficult to hear what they were saying, but it could be that Lana is missing. A look of relief on Lex's face as Lana shows up supports that theory.
- Lionel stands behind Lex, which may imply he is the best man.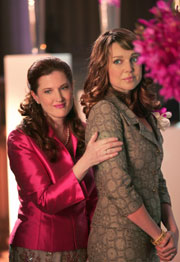 - Martha sits in the front pew, surely a guest of Lionel's.
- Sarah-Jane Redmond returns as Aunt Nell for her first Smallville appearance since Season Two. She sits in the front pew next to Martha.
- As they are saying their vows, Lana looks a bit uneasy. Could she have finally learned Clark's secret? Will she go through with the wedding? Do we really need to remind you to tune in on March 15 to find out?
- Filming on one of the days had to be stopped for several hours as a Japanese couple had rented the church to take some photos in its beautiful location. Whether or not they realized they were in the middle of a filmed TV series is unknown... but they sure seemed happy.
- There IS a sequence where Lex and Lana leave the church and are off to their honeymoon, which could mean the wedding is on... unless it's a dream sequence, as rumor has it there will be at least one dream sequence in the episode. As they were filming the exit from the church, Clark was, again, nowhere to be seen.
Return to the KryptonSite News Page!