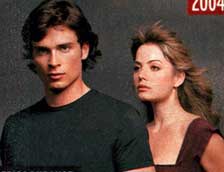 TV Guide Takes A Look At The Many Faces Of Lois Lane
The September 26 issue of TV Guide has a two-page feature taking a look at the many actresses who have played the role of Lois Lane on television and movies. As you can see, the article also features a NEW photo of Tom Welling and Erica Durance as Clark and Lois.
Below is a scan of the article, which you can find on newsstands this week. (Article and feature copyright 2004 TV Guide, no infringement is intended and if there is a problem with the inclusion here on KryptonSite, please e-mail us!)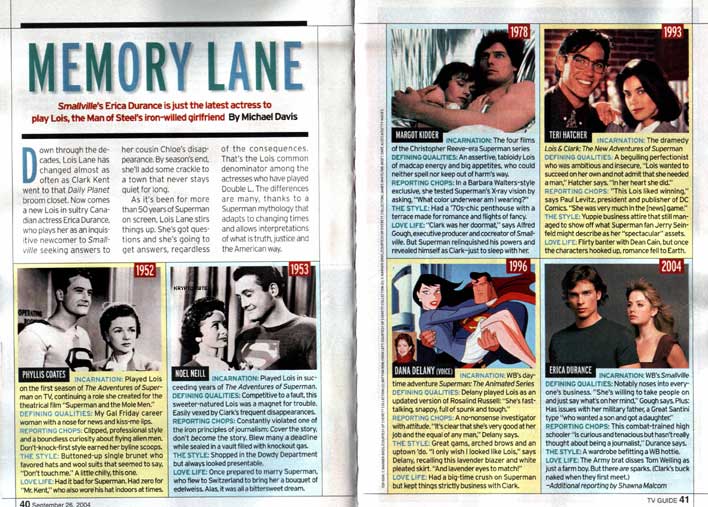 Smallville and its characters are copyright ©2004 Warner Bros. & DC Comics. This is a fan site and not authorized by the WB or DC. The term "Kryptonite" is a trademark of DC Comics. Page copyright ©2004 KryptonSite, unless the material is noted as coming from someplace else or being by an individual author. Smallville stars Tom Welling, Kristin Kreuk, Michael Rosenbaum, John Glover, John Schneider, Annette O'Toole, Erica Durance, Jensen Ackles, and Allison Mack.
PLEASE DO NOT TAKE GRAPHICS, NEWS, SPOILERS, ETC. FROM KRYPTONSITE WITHOUT FIRST ASKING PERMISSION AND PLACING A LINK TO KRYPTONSITE.COM. OR, JUST SEND PEOPLE OVER TO THIS SITE! THANKS!