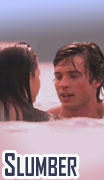 REM and "Slumber"
Press release from the WB regarding the October 22, 2003 Smallville...
HISTORIC TELEVISION FIRST FOR THE WB'S SUPER HIT SMALLVILLE AND INTERNATIONAL MUSIC SUPERSTARS R.E.M.
SMALLVILLE Episode Airing On October 22 To Feature Songs Exclusively From R.E.M.
In an unprecedented partnership between Warner Bros. Television, Warner Bros. Records and The WB, the "Slumber" episode of SMALLVILLE, airing on The WB on Wednesday, October 22 (8:00 - 9:00 p.m. ET/PT), will feature the music of only one band - the international rock sensation R.E.M. - throughout the episode. In "Slumber," Clark Kent (Tom Welling) dreams he is being pursued by a frightened young girl who needs his help. After Clark discovers the apparition is actually that of a comatose neighbor who should have awoken years ago, he enlists Lana Lang's (Kristin Kreuk) help to uncover the truth - which puts Lana in grave danger.
Already renowned for integrating top musical artists with the dramatic action of the show, SMALLVILLE will break new ground by featuring five hit songs by R.E.M. - "Imitation of Life," "Everybody Hurts," "Losing My Religion," "Bad Day" and "At My Most Beautiful." All R.E.M. songs to be featured in the episode are from the band's new album, In Time: The Best of R.E.M. 1988 - 2003, scheduled for release on October 28 from Warner Bros. Records.
With realistic portrayals and award-winning state-of-the-art special effects, SMALLVILLE reinterprets the Superman mythology from its roots. SMALLVILLE stars Tom Welling, Kristin Kreuk, Michael Rosenbaum, Sam Jones III, Allison Mack, John Glover with Annette O'Toole and John Schneider. SMALLVILLE was developed for television by Alfred Gough & Miles Millar ("Shanghai Noon"), based on DC Comics characters. The executive producers are Gough & Millar, Greg Beeman ("Nash Bridges"), Mike Tollin, Brian Robbins, Joe Davola (all three from "I'm with Her," "One Tree Hill," "What I Like About You") and Ken Horton ("The X-Files," "Millennium"). SMALLVILLE is produced by Tollin/Robbins Productions and Warner Bros. Television Production Inc.
Return to KryptonSite - Read more spoilers about "Slumber!"
KryptonSite Smallville Music Page
Are you involved with Smallville and would like to be interviewed at KryptonSite? We'd love to talk to you. E-mail us!
PLEASE DO NOT TAKE GRAPHICS, NEWS, SPOILERS, ETC. FROM KRYPTONSITE WITHOUT FIRST ASKING PERMISSION AND PLACING A LINK TO KRYPTONSITE.COM. OR, JUST SEND PEOPLE OVER TO THIS SITE! THANKS!