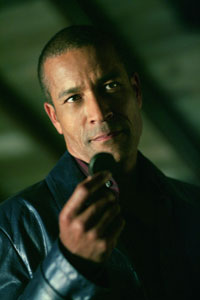 Mission To Mars: KryptonSite Speaks With Phil Morris
Interview conducted by Craig Byrne - KryptonSite Webmaster
January 2007
Phil Morris plays the role of John Jones, the Martian Manhunter for the Jan. 25 episode of Smallville, which is titled "Labyrinth."
To most, Morris is best known for his role as Jackie Chiles on Seinfeld. However, that is only one of his many credits. Other movies or television series on his resume include Melrose Place, Love Boat: The Next Wave, and the 1980s revival of Mission: Impossible, where he played the son of Barney Collier, a character played by Morris' real-life dad Greg Morris in the original series.
Morris also has many connections to the world of comic book media. On the Justice League animated series, he has played Vandal Savage. On a sitcom titled WIOU, Morris played a character named Eddie Brock, but no, it wasn't Venom's alter ego. The super-hero thing also runs in his family... his sister, Iona, was the voice of Storm in the 1990's X-Men animated series.
KryptonSite's Craig Byrne caught up with Mr. Morris at the CW's night at Winter 2007 Television Critics Association Press Tour. We think you'll agree that Morris is one of the most enthusiastic and humble actors one would meet, and it sounds like he is very excited about his new role.
The interview follows.
KRYPTONSITE WEBMASTER CRAIG BYRNE: Is it true that you are a big comic book fan?
PHIL MORRIS: I am a huge comic book fan. I have 20,000 issues, actually. I've been collecting since I was seven years old, and I have some really original stuff. So, to do Smallville, for me, is more than an honor; it's almost like a rite of passage.
K-SITE: Had you always been a fan of the Martian Manhunter?
MORRIS: I'm a fan of all the DC Universe characters, and Martian Manhunter, to me - it's weird to say this - but he's one of the most humane of all the DC Universe characters. Odd that he's from Mars, but he has such a great sense of compassion, such a great sense of humanity. So yeah, I'm a big fan of Martian Manhunter. And I'm a big fan of Carl Lumbly, who voices the Martian Manhunter on the Justice League for Warner Brothers.
K-SITE: You've done voice work on the Justice League animated series as well, is that correct?
MORRIS: I play Vandal Savage for them, and I just voiced the new straight-to-video DVD of the Darwyn Cooke graphic novel The New Frontier. So it's great. It's funny, because I did that the week before I went up to Vancouver to do Smallville; so I'm playing King opposite [the Martian Manhunter] in the cartoon, and then I am actually him in Smallville. It's very wild.
K-SITE: Now we know how Michael Rosenbaum must feel. [Rosenbaum plays The Flash on JLU and is Lex on Smallville]
MORRIS: Yes. He actually asked me about that. We actually have Neil Patrick Harris playing the Flash [in New Frontier].

K-SITE: Are they going to put you in any makeup when we see you on the show?
MORRIS: No, no. They have been smart enough to use my normal guise. I've been saying to my friends that I look like an intergalactic Shaft.
[At this point, executive producer Al Gough comes by and they both describe John Jones' comics-inspired costume - incorporating the cobalt blue of J'onn's current comics look, an Armani shirt, and a long, leather coat]
MORRIS: It's cool. Dude, I look awesome. Thank God I look like me. He's a wonderful, grounded character, and when people see how I interact with Clark Kent/Kal-El, I think they will be fairly blown away.
K-SITE: Are you planning to come back for more episodes [beyond "Labyrinth"]?
MORRIS: Yes.
K-SITE: Are you allowed to talk about that at all?
MORRIS: No. [I mean] the way we've set it up, as the fans will see on Thursday night the 25th, they'll see that I have to come back. He and I have got stuff to do.
K-SITE: How did you go about getting the role?
MORRIS: It was a long process. I auditioned five weeks before I actually got that part.
K-SITE: Did you pick the role, or did they come to you?
MORRIS: They came to me. I auditioned just like a normal actor, and I had to sweat it out, just like a normal actor. I actually went in twice. I went in one time, and then went back a couple of weeks later, read for the producers who came down from Vancouver. And then three weeks after that, I got the part.
---
KryptonSite would like to thank Mr. Morris for taking the time to do this interview. Don't forget to watch "Labyrinth" Thursday night, January 25, on The CW!