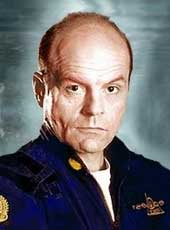 Michael Ironside Cast In Recurring Smallville Role

Michael Ironside, whose past credits include SeaQuest DSV, ER, and voicing Darkseid on the Superman and Justice League animated series, has been cast on Smallville in a recurring role for Season 4. The role is that of General Sam Lane, hard-nosed father of Lois Lane. The character will first appear in Episode Two of Season Four, which is titled "Gone." (read for more details!)
Interesting trivia: Ironside also voiced the "1980's Batman" in the popular Batman animated episode "Legends of the Dark Knight."
Smallville and its characters are copyright ©2004 Warner Bros. & DC Comics. This is a fan site and not authorized by the WB or DC. The term "Kryptonite" is a trademark of DC Comics. Page copyright ©2004 KryptonSite, unless the material is noted as coming from someplace else or being by an individual author. Smallville stars Tom Welling, Kristin Kreuk, Michael Rosenbaum, John Glover, John Schneider, Annette O'Toole, Jensen Ackles, Erica Durance, and Allison Mack.
PLEASE DO NOT TAKE GRAPHICS, NEWS, SPOILERS, ETC. FROM KRYPTONSITE WITHOUT FIRST ASKING PERMISSION AND PLACING A LINK TO KRYPTONSITE.COM. OR, JUST SEND PEOPLE OVER TO THIS SITE! THANKS!