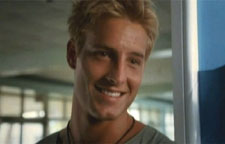 KryptonSite Exclusive: Justin Hartley Talks Aquaman & Green Arrow
As first announced in this week's TV Guide, Justin Hartley will be making an appearance in at least seven episodes of Smallville's sixth season playing the role of Oliver Queen, better known to comic book fans as Green Arrow.
Of course, fans on the Internet, particularly those who caught the Aquaman trailer on YouTube might recognize Hartley - he played the lead role of Arthur "AC" Curry in the Aquaman TV pilot from Alfred Gough and Miles Millar, creators of Smallville. Sadly, the CW chose not to run with Aquaman and the show remains unaired. Chances of it ever becoming a full-fledged series are slim to none.
Justin made an appearance at the Comic-Con International in San Diego on July 22, and after his autograph signing, KryptonSite's Craig Byrne was fortunate enough to catch up with Justin for a Q and A session. The interview follows:
What was it like to film the Aquaman pilot last season?
You know, it was great. We did some tank work, and then we did some ocean work as well. We were actually in the reef and in the ocean swimming around. It was great. It was a lot of hard work. It was really physically taxing, but nothing I couldn't handle, and really beautiful and tranquil. It's really interesting, looking at an aquarium as opposed to being in their environment. It's a little freaky, but it's fun. I swam with dolphins. That was so great, man. That was so, so fun. I would recommend that to anybody. It was a good time, to work with all those guys. They're all professionals, like all the divers underwater and stuff, so, it's good.
Can you talk about some of the people you worked with on Aquaman?
I'm an actor, so for me, all the actors stand out. Lou Diamond Phillips stands out. Everybody knows he's a good actor, 'cause he's proven that. He's been in umpteen million films and stuff, and everyone knows he's good. But it's interesting, because there's a certain quality about his acting that comes through, I think. And it's a likability, an endearing quality about his acting that comes through. And it's really interesting, when you get to know him, you realize that that is him. It's him coming through. I mean, he is the nicest - maybe the single nicest man I've ever met in my life. And he's genuine. He's such a good, good person.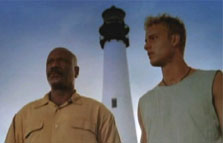 Ving Rhames stands out to me also, just because he's got great presence. He's a fun guy too, and he's got a lot of insight in the business.
Greg Beeman, I thought, did a great job. He's always moving the camera, and he's always trying to help you out, and one of the best directors I've worked with, I think. I really enjoyed him.
What was your reaction when you learned that the Aquaman pilot was not picked up as a series?
I would say that I was not disappointed, but I think that's lying, because I was really looking forward to doing it. I got over it pretty quickly, not because it didn't sting, but because of this business you deal with situations like that a lot, and if you take the time to feel sorry for yourself, then the people who are nipping at your heels are going to pass you, and end up getting all your other jobs. So you've got to work. You've got to get back to work, get another job. You don't have time to feel sorry for yourself. So there was a moment of "oh, man," just because it was so much hard work, and I really thought we - I still do think that it just could have been really great. It really could have been great. There were a lot of stories to be told, and Miles and Al worked so hard on it. We all worked so hard on it.
So it was disappointing in that sense, but then you move on and, what are you gonna do, you know what I mean?
You then went on to do a movie this summer, is that right?
I'm actually filming it right now. I'm doing Spring Breakdown with Rachel Dratch and Amy Pohler, Parker Posey, and Missy Pyle.
Click here to read more, as Justin talks about his upcoming Smallville role as Green Arrow!
Return to the KryptonSite News Page!