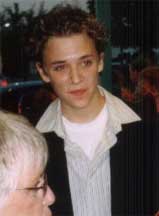 Kyle Gallner is Bart Allen
Okay, let's try this "Bart Allen is Cast" thing again:
Kyle Gallner is the name of the actor who has been cast in the role of Bart Allen/The Flash in episode #4-5 of Smallville, which is titled "Run."
Kyle's past credits include episodes of Touched By An Angel, The District, Law & Order: SVU, and Third Watch. He

has also been in several movies, including "Red Betsy."
Hopefully this information won't be wrong this time!
For more information on "Run," visit the Spoilers page and look for Episode #4-5.
See some more recent images of Kyle Gallner!