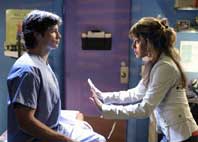 In Touch Weekly Previews Season 4 Premiere
The latest issue of In Touch Weekly has a preview of new and returning television programs. Here's what they had to say about the new season of Smallville:
"Tom Welling finally flies, but not necessarily as Clark! And The Flash speeds by. But the big news is that Lois Lane (Erica Durance) comes to town to investigate the death of cousin Chloe (Allison Mack), who may be alive!"
Smallville and its characters are copyright ©2004 Warner Bros. & DC Comics. This is a fan site and not authorized by the WB or DC. The term "Kryptonite" is a trademark of DC Comics. Page copyright ©2004 KryptonSite, unless the material is noted as coming from someplace else or being by an individual author. Smallville stars Tom Welling, Kristin Kreuk, Michael Rosenbaum, John Glover, John Schneider, Annette O'Toole, Erica Durance, Jensen Ackles, and Allison Mack.
PLEASE DO NOT TAKE GRAPHICS, NEWS, SPOILERS, ETC. FROM KRYPTONSITE WITHOUT FIRST ASKING PERMISSION AND PLACING A LINK TO KRYPTONSITE.COM. OR, JUST SEND PEOPLE OVER TO THIS SITE! THANKS!