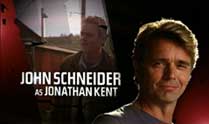 Why Does John Schneider Remain In The Smallville Opening Credits?
After the airing of "Vengeance," some fans wondered why John Schneider remains in the opening credits of Smallville when his character was killed in the 100th episode.
Contractual obligations will keep John in the opening titles for the rest of the season, whether or not he is slated to appear on the show again. Usually, when an actor appears in more than half of the episodes of the season, they still appear in the opening - witness Erica Durance and John Glover, who usually only appear in 13 of the 22 episodes per year.
The video in "Vengeance" might not be the last we see of Schneider on Smallville, so the "I've read scripts with Jonathan in them" posted on John Schneider's official website actually is true. Look for at least one more episode to feature Jonathan Kent, be it in flashback or some other scifi device. The only episode we've heard about thus far will be "Void," which airs in April, but don't be surprised if we see him sooner.
"In many senses, Jonathan is in the show more after he's dead. His memory is kind a talisman for the second half of Season 5. I'm in it in spirit more than I was in Season 4 at all," Schneider says in a TV Guide interview which can be found at this link.
Read about some upcoming episodes of Smallville
Return to the KryptonSite News Page!