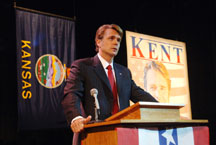 John Schneider On Smallville Death
If you've seen the Jan. 26 Smallville, you now know who the Big Death of episode #100 was. John Schneider, who has played Clark's adopted father Jonathan Kent since the very first episode, has now seen his character go to that great cow pasture in the sky.
"My wife and I were looking at a new car when Al called me," he told us last week at the Television Critics Association Press Tour, when we asked how long ago he found out his character would be the one to go. "So I bought two," he said, taking the news with stride. "It was during our ninth episode that I found out that the 100th episode was gonna be my last."
He felt Jonathan Kent went out like a hero. "It was like John Wayne and the cowboys. An empowering death. Which is so important, because if Jonathan Kent had just died, it would have been terrible. It would have been meaningless."
If there is anything about Smallville that Mr. Schneider would miss more than anything else, it would be his working relationship with Tom Welling. "I miss working with Tom. We have a really remarkable relationship with regard to the father and son bit. We're fun, and we're both big guys and all that sort of thing, but when you really get right down to it, the relationship you see on Smallville is very like the relationship we have. My son is 14, and I'll have that relationship in a couple of years. But I don't have that, really, yet," he said. Schneider's last scene filmed with Welling for "Reckoning" was holding Clark back after Lana's fatal crash. The words "there's nothing you could have done" are effective for not only that situation, but Jonathan's passing as well.
John Schneider is aware of the support his character has received from fans online since the first rumors of Jonathan's demise surfaced prior to Season 5. "I do honestly believe that the fans had a lot to do with Jonathan Kent lasting as long as he did," he said.
Schneider wouldn't rule out the possibility of returning to Smallville as a director again at some point. His Smallville directorial debut, "Talisman," was well received by fans. "I'd love to, but that's up to the Powers That Be. In that realm, I'm like the vampire. I must be invited in."
Could this be the last time we see Jonathan on the series? "There's one little thing in the 13th episode. It's like Old Yeller. It's heart-wrenching. It's fantastic," he tells us, though we're not sure if he's talking about an appearance of Jonathan or just the quality of the script.
We here at KryptonSite would like to thank John Schneider for five great years as Jonathan Kent.
Return to the KryptonSite News Page!
Read Executive Producer Alfred Gough's comments on the Smallville death