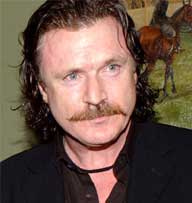 Patrick Bergin Comes To Smallville
Patrick Bergin of "Sleeping With The Enemy" fame will be playing Morgan Edge when he returns in the upcoming Smallville episode "Shattered," which is scheduled to air on November 19, 2003.
Bergin replaces Rutger Hauer, who was unavailable for the episode. "It seems Mr.Bergin is represented by the same management company as Rutger Hauer and when Hauer was unavailable they asked Pat to step in for him. The opening scenes will show Morgans face covered in stitches after reconstructive plastic surgery," tipster "Des" tells us.
Return to KryptonSite - Read more spoilers about "Shattered!"
Are you involved with Smallville and would like to be interviewed at KryptonSite? We'd love to talk to you. E-mail us!
PLEASE DO NOT TAKE GRAPHICS, NEWS, SPOILERS, ETC. FROM KRYPTONSITE WITHOUT FIRST ASKING PERMISSION AND PLACING A LINK TO KRYPTONSITE.COM. OR, JUST SEND PEOPLE OVER TO THIS SITE! THANKS!