NEWS POSTED MAY 15, 2009
Human Target: What Would You Like To See?
What would you like to see from the new Human Target television series?
Talk about it on our forum thread!
Lots of posts will give justification for a full Human Target subforum at the KryptonSite Forums; but beyond that, we're curious what you'd like to see from the show. Join in on the discussion!
Human Target To Pair With Dollhouse?
The TV buzz of the day is that FOX is considering renewing Dollhouse for a second season, and some rumors even point to the idea of a Human Target/Dollhouse pairing. Both shows have compatible concepts, with Human Target featuring a man who pretends to be others and Dollhouse featuring characters who literally become others but maintain their outward appearances, and could prove themselves as a very potent combo for the network.
Official announcements are coming on May 19. What do you think of the idea? Talk about it on our forum!
NEWS POSTED MAY 14, 2009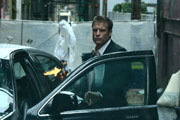 The First Promotional Image From The Human Target Pilot!
Thanks to Carolina...the very first promo image from Human Target!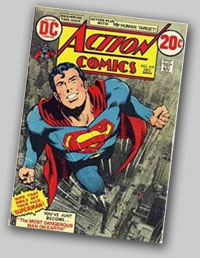 Presenting... Target419!
Now that FOX has announced that they've picked up the show, KryptonSite's Human Target news and information site will soon be moving to a new domain... Target419.com.
The site's not up yet, but hopefully it will be a great resource for those wanting to know more about the project as it comes up.
Also, obviously that picture of Mark Valley at the top of the page is from Fringe; look for that to change, too, once some official pictures are released. (Got any? E-mail us!)
Why Target419? The simplest reason is that names like TargetSite were already taken. But why 419? Christopher Chance, the Human Target, first appeared in the comic book Action Comics #419 over 35 years ago. Consider this our little tribute.
Please spread the word about the site and stay tuned for more details as FOX announces their Fall 2009 schedule on Monday!
NEWS POSTED MAY 13, 2009
Human Target Picked Up
Target @ KryptonSite has learned that Human Target has indeed gotten picked up for FOX's Fall schedule.
More details as they become available...
UPDATE: This news has now been confirmed by The Hollywood Reporter.
NEWS POSTED MAY 7, 2009
Human Target "A Lock" For FOX's Fall Schedule
LA Weekly's Nikki Finke, whose Deadline Hollywood Daily column is often at least usually right, reports that Human Target is "a lock" for FOX's Fall 2009 schedule after it screened very well. "Peter Rice saw it and loved it," a source told Finke, who added it is now considered FOX's best drama pilot for the new season.
The official announcements will be made on May 18, at which time we will hopefully have some images to share from the pilot! (If anyone is reading who'd like to leak some, too, you know where to find us...)
NEWS POSTED APRIL 24, 2009
Human Target's Prospects Are Good
Thus far the analysis of folks "in the know" in places such as the Hollywood Reporter seems to imply that Human Target is "a lock" to appear on FOX's Fall 2009 schedule.
FOX will be unveiling ther schedule on May 18, 2009.
Got A Tip?
A site like this can't survive without good sources. So, if you happen to be involved with Human Target and would like to be a confidential source to the site, please send in an e-mail. We'd like for this to be a premier source for Human Target news and info, but it can only happen with your help!
NEWS POSTED APRIL 2, 2009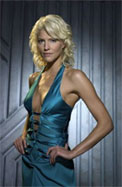 Tricia Helfer Appears In The Human Target Pilot
Battlestar Galactica 's Tricia Helfer will be appearing in the Human Target pilot episode which has now completed shooting. Chances are good she'll be playing Stephanie Dobbs, a character described as "sophisticated-sexy" who works in special projects for McNamara Engineering.
For more details on the character, visit the Human Target spoilers page.
(News courtesy of Tricia Helfer's official site; thanks to those who sent in the news!)
NEWS POSTED MARCH 5, 2009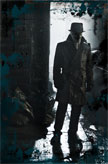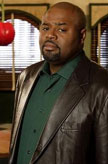 Jackie Earle Haley & Chi McBride Added To The Human Target Cast
Jackie Earle Haley has moved from Watchmen onto another comic book property as he has joined the cast of the Human Target pilot.
Haley, who plays Rorschach in the new film, will be Chance's "information gatherer" who at least in the casting notices is known as "Guerrerro."
Also joining the cast is Pushing Daisies' Chi McBride, who may have finally escaped having "The Secret Diary Of Desmond Pfeiffer" next to his name. He'll be playing Winston, Chance's business partner and friend.
NEWS POSTED FEBRUARY 21, 2009
Production Dates Revealed
Shooting for Human Target is currently scheduled to begin on March 9 and will continue through to March 27. As we get closer to the shooting date that will probably mean more casting choices will soon be announced.
It appears Human Target production will be taking place in Vancouver, home to such genre TV shows as Smallville, Supernatural, and The X-Files.
NEWS POSTED FEBRUARY 10, 2009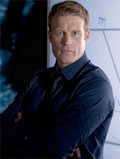 Mark Valley Cast As Christopher Chance
Mark Valley of FOX's Fringe will be playing the role of Christoper Chance on the series! A well-known face to fans of that show - might improve the chances of this actually getting picked up!
Read some casting breakdowns to see what other characters are currently casting!
NEWS POSTED FEBRUARY 3, 2009
From Tomb Raider To The Human Target: West Signs On As Director
Lara Croft: Tomb Raider director Simon West has been tapped to direct the Human Target pilot. Perhaps some casting will be announced soon as shooting approaches. West also has directed for TV before, with Close To Home and Keen Eddie.
NEWS POSTED JANUARY 2009
Pilot Spoiler Information!
Target @ KryptonSite now has details from the pilot episode of the new Human Target adaptation.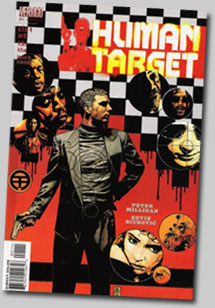 Welcome to Target @ KryptonSite!
The FOX television network has put in a pilot order for a new television adaptation of DC Comics' The Human Target - a character who first appeared in Action Comics #419 way back in 1972.
The Human Target is Christopher Chance, described in the character's Wikipedia entry as "a unique private detective and bodyguard named Christopher Chance who operates by impersonating his clients in order to eliminate threats to his principal. Since Chance makes himself a target, he, in essence, becomes a 'Human Target'."
Comic book appearances by the Human Target in early years were mostly relegated to back-up features in Action Comics and other books; he never had a comic to himself until a Human Target special in 1991. That special issue - written by Mark Verheiden of Smallville and Battlestar Galactica fame - was created to tie in with a then-upcoming ABC TV adaptation of the comic book character. That adaptation - produced by Danny Bilson and Paul De Meo of Flash fame - lasted for only seven episodes, and starred Rick Springfield as Chance.
In 1999, writer Peter Milligan and the late artist Edvin Biukovic took a shot at the Human Target for a very successful four-issue mini-series under DC's Vertigo comics imprint. Later, a new graphic novel and ongoing series would follow, though the series is no longer being published. Most of the highly-acclaimed Milligan era can be found in trade paperback form.
The new Human Target TV pilot is written by Jericho co-creator Jonathan Steinberg and producers include Warner Bros. Television and McG's Wonderland Sound and Vision.
No casting news is known at this time, though if done right, this could be a very exciting project! And more importantly... if it does happen, how long will it be before Rick Springfield is someone that he impersonates?
Discuss the Human Target television project on the KryptonSite Forums!