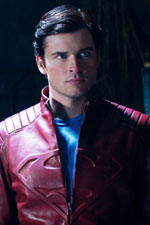 OnTheRedCarpet.com caught up with Tom Welling on Monday night and the notion of a Smallville movie was one of the subjects talked about. Welling also spoke briefly about the upcoming Man of Steel film starring Henry Cavill.
Interestingly, the subject of a Smallville film had come out many years before. "We talked about that between, I think it was season three and four, when the characters were moving from high school to what will be college. We played with the idea and what we found was there wasn't time," Welling said.
"It would've been fun to do a transition movie for those characters. But who knows in the future," Tom continued. When asked more directly if the opportunity came up for a Smallville movie, if he would take it, Tom said "Sure, I don't see why not."
Tom also seems thankful for the time he spent doing the show. "I can't imagine anything beyond family that could have such an effect on a career as Smallville did for me," he said.
For now, Tom is looking forward to Warner Bros.' future Superman plans as much as many fans are. "They have other plans for Superman, which I'm a big fan of and I can't wait to see what they do," he said.
You can read the full OnTheRedCarpet interview here.