"And one other thing - you're not working with me, you're working FOR me. I call the shots, I ask the questions. You are low man, and I am top banana, and that's the way I like it. Comprende?"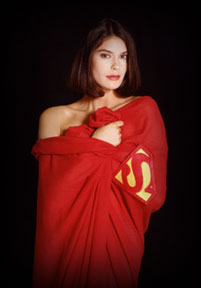 Teri Lynn Hatcher was born on December 8, 1964 in Sunnyvale, California. The only child of a nuclear physicist and a computer programmer, Teri initially majored in math and engineering at a community college in Cupertino, CA. She then studied acting at the American Conservatory Theater in San Francisco, and became a member of the San Francisco 49ers cheerleading squad, known as the Gold Rush.
Teri's first television appearance was as a singing mermaid on "The Love Boat" in 1977. From there, she went on to land a recurring role on "MacGyver," as well as a memorable appearance on "Seinfeld," where Jerry and Elaine tried to figure out if her breasts were real (word is that they are, and that they're "spectacular!"). Teri also appeared in feature films like "Tango & Cash" and "Soapdish" before being cast as one half of the titular duo on "Lois & Clark: The New Adventures of Superman."
During the course of the series, Teri's popularity grew to the point where she was officially hailed as the most downloaded woman on the internet, due in large part to a picture of her wearing nothing but Superman's cape. Teri also co-wrote an episode of the series, the third season episode "It's A Small World After All." While shooting L&C, she also found time to appear in films like "Heaven's Prisoners" and "2 Days In The Valley."
In May of 1994, Teri married actor Jon Tenny in New York City. On November 10, 1997, she gave birth to their daughter, Emerson Rose Tenney. Though Teri and Jon recently filed for divorce, they share custody of their daughter, who lives with Teri.
After Lois & Clark's run ended, Teri returned to the silver screen and achieved "Bond Girl" status with a small but memorable role as Paris Carver in the 1997 James Bond film, "Tomorrow Never Dies." She later added a spy film of a different kind to her credit, playing a villain in 2001's "Spy Kids." Teri also took to the stage with a road tour of "Cabaret."
A joke on NBC's "Will & Grace" commented on how Teri Hatcher was very popular six years ago, and then no one wanted her. Luckily for Teri her career rebounded. In 2004 she began her role as Susan Meyer on the popular ABC series "Desperate Housewives." The role has gotten her awards and fan and critical acclaim.
Bio written by Russ Dimino