NEW INTERVIEW! Conducted August 2003 by Craig Byrne (PlanetKrypton@aol.com)
Brad Buckner came onto Lois & Clark as a writer and executive producer with the series' third season, alongside creative partner Eugenie Ross-Leming. Buckner was kind enough to answer some questions today in a "where are they now" type feature. Special thanks to Brad Buckner for taking the time from his busy schedule.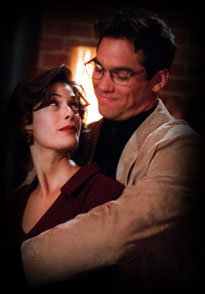 KRYPTONSITE: What have you been up to since writing and producing Lois & Clark?
BRAD BUCKNER: Eugenie [Ross-Leming] and I co-executive produced "Turks" on CBS, "Beggars & Choosers" on Showtime and are currently working on "Hack" on CBS. We wrote several pilots and a couple TV movies in between series.
K-SITE: Do you still catch the L&C repeats on TBS? Do they inspire any memories?
BRAD: Rarely see episodes because I'm not often home when they're on. I do reflect on that time, as it was interesting being part of a legacy that had begun before I was born, and doing the series itself was so challenging.
K-SITE: Was there a particular episode that really stood out for you to work on?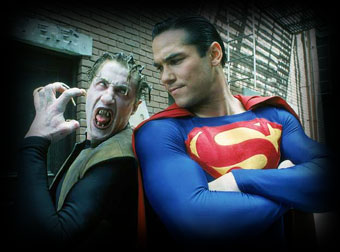 BRAD: I think a favorite of both Eugenie and mine was the last episode of season 3, "Big Girls Don't Fly." It had a nice mix of angst, romance, action, family involvement, fantasy and a dash of humor. When the rough cut was shown at ABC every executive up through the president of ABC called to say they cried when they saw it.
K-SITE: Do you think getting the two lead characters married ultimately killed the show?
BRAD: I know there's disagreement out there, but I think marrying them didn't help a lot. These were people who hadn't even really dated before the end of season two and it seems there was a lot to explore just letting them get to know each other and having Lois deal with knowing the secret.
K-SITE: Is there anything you would have done differently, if you had the chance to do it all over again?
BRAD: As in the answer above, I probably would have delayed the proposal. Again, I know there's huge disagreement out there, but I personally liked the stuff with the clone and the fake wedding. I thought it was great stuff for Dean and Teri to play, I liked the clone, thought Lex had great stuff to do. It was gothic and odd. Maybe I could've done without the amnesia and Lois's infatuation with the psychiatrist.
K-SITE: How was the cliffhanger (from "The Family Hour") supposed to be resolved in Season Five?
BRAD: It's starting to get a bit fuzzy in my mind, but Lois and Clark became very attached to the little boy who began to grow at an abnormal rate, turning into a pre-teen in a matter of a few months. He also began to develop super powers, not all of which he used responsibly, since he was a troubled kid. Turns out he was Kryptonian royalty, stashed by his mother to keep him safe from assassins. In the end he had to (tearfully) leave the only parents he'd ever known (L & C) and return to save his imperiled people.
K-SITE: Was there anything else planned for Season Five that you still remember?
BRAD: Just the above. And of course Lois's suicide. Kidding.
K-SITE: Have you seen Smallville? If so, what did you think?
BRAD: I like Smallville. Certainly their take on things is more in the vein of the teen angst the WB specializes in (a la Dawson's Creek), but it's interesting and (from what little I've seen) Lex and Lana Lang are handled in a nice way. Our approach was more grand-opera-big-romance. Just a different way to go.
K-SITE: Do you still keep in touch with any of your Lois & Clark crew?
BRAD: I see K, John McNamara, Bob Singer, and of course Eugenie, keep in touch with Tim Minear. Teri's been in New York for a while; haven't seen Dean. I've worked over and over with much of the post staff (some of whom are on "Hack.")

Interview conducted via e-mail in August 2003 by Craig Byrne (PlanetKrypton@aol.com) - Read more interviews