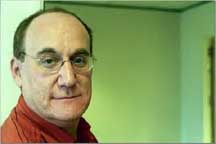 KryptonSite Interview: Jeph Loeb Talks About His Smallville Departure
He's long been associated with Superman through his comic book work, and joined the Smallville team at the beginning of Season 2. He also scored very highly on KryptonSite fan polls for his work on such favorite episodes as "Red," "Insurgence," "Legacy," and "Unsafe." Those who read his comics often keep Supergirl and Superman/Batman near the top of their "must read" pile. And soon, you'll be seeing him over at Marvel Comics and writing a movie based on Will Eisner's The Spirit.
Jeph Loeb is a man of many talents, and has long been a supporter and friend to this site and to Smallville. Loeb has moved on from his post as a Supervising Producer on the show, but he was kind enough to take the time to do an interview with KryptonSite about his departure and reflect on his time with the series.
KRYPTONSITE: Is it true that you won't be returning for Season 5, and if so, will you still be involved with the show in any way? Is there any chance you might do some work on the show again?
JEPH LOEB: Yes, it's true I won't be back for Season 5. Al and Miles asked me to return for Season 5 -- and 6 and 7 -- (my 3 year contract had ended) and we were working something out when my son's health became quite serious. As much as I loved working on the show, I knew I had to be with Sam. A & M were very understanding... they've been big Sam supporters since all of this began. Al and Sam were particularly close -- he took the role of "Uncle Al" very seriously. He introduced Sam to his yoga instructor "Yoga Adam" who went on to be a really good friend of my son's.
Since Sam died, the entire staff has been part of our extended family. Sam would come in every Friday before we went off drinking and then to sushi for dinner and was always part of the gang. (He drank Diet Coke's for all you Mom's out there!) There's little doubt in my mind that even at 17, he would have written an episode eventually. He was a truly gifted writer -- and a magical son.
I have only good memories of working on the show. The people, particularly Kryptonsite's Writers of the Year Todd Slavkin and Darren Swimmer and my personal Favorite Writers of the Year Kelly Souders and Brian Peterson, I miss terribly.
But, I was involved in one way or another in sixty-six episodes and was lucky enough to be the writer on RED, INSURGENCE, LEGACY and UNSAFE. So, to answer your question, I never say never in terms of returning to anything. The subject matter (obviously) means a great deal to me and I adore the people.
They still call from time to time. When they need to know who was Aquaman's seahorse -- that sort of thing. I feel like William Shatner at a Star Trek convention... (laughs)
K-SITE: Do you have a proudest accomplishment of your time with the series?
LOEB: Making working there fun. And consuming more grapes than a person probably should have! (Thanks Caroline & G.!) It can be very intense in the writers room day after day for very long hours. I always tried to find "the funny." If we could laugh -- we could do anything. There never was a story we couldn't break (come up with a detailed outline for) -- they all might not have been Memoria (I think the series' best), but damn we gave it a good run. And it continues to run and hot. I've read the first few scripts of the season. Rock on, gang!
K-SITE: What projects are next for you?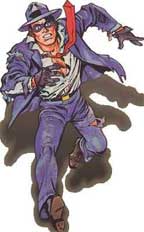 LOEB: More stuff that keeps me closer to home. My first priority is to the adaptation of WILL EISNER'S THE SPIRIT. It's a wonderful story and the characters are so rich, I'm having a ball. Plus getting to work with Producer Michael Uslan (Batman Begins, Constantine) and the good folks at Odd Lot Entertainment has been so rewarding.
I have a pilot at FOX with McG's company Wonderland. It's got nothing to do with comics, but it's something I've wanted to write for a very long time. Peter Johnson, McG's President, is one of those people who I just see eye-to-eye with. It's like we're connected in the brain and he's been there every step of the way through the process. I hope it goes. People tell me it's very good, but what do they know...(laughs)
And, as if I don't have enough to do, I'm leaving DC exclusively to go exclusive with Marvel as of September 1st. I'm very excited about coming back to those characters and working with guys I've never gotten to work with before like Brian Michael Bendis and Mark Millar. Joe Quesada (the EIC [Editor-in-Chief - Craig]) is a close friend, so it feels like going home ... so far!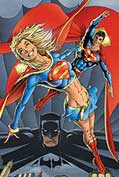 I still have a commitment to SUPERMAN/BATMAN (through Issue #25) and we've just launched SUPERGIRL this past week. We sold out the first issue in something like ten hours. DC has gone back to press on a second printing with a variant cover. (I can only imagine your non-comic book web-readers going "What that @#$% is he talking about?) (laughs)
K-SITE: Since there are a number of comic book fans who read KryptonSite - will your Marvel contract affect the newly-launched Supergirl series?
LOEB: As I have said elsewhere, DC has been very understanding about making a smooth transition and Marvel has been very understanding that I've given my word to the readers and the retailers that I won't leave an unmade bed. Short answer: We're working it all out.

K-SITE: You were the go-to guy for comic book knowledge during the time with the series, and as I understand it you worked out the appearances of characters like Bart Allen on the show. Can you talk about that?
LOEB: Well, first off, your understanding is not quite right. I certainly was looked to for the "comic book reference" -- but that wasn't why I was on the show. I think this misunderstanding grew out of my title for the first two years as "Consulting Producer". I was essentially doing the same job I did as Supervising Producer -- titles on Smallville (with the exception of Executive Producer) have little to do with responsibility. I was there, every day, on every show. I think people thought I came in on the day after the show aired and in my best "Comic Book Guy" from the Simpsons said "Worst Episode Ever!" and left for the day. I wish!
As we often would say, "There is no "I" in "Team," but there is in "Dick." (I hope I haven't offended the family audience!). The writing staff was/is a team. We look after each other and every script has a little bit of everyone besides that individual writer. Because I spent the greater majority of the show in the writer's room breaking stories, I got to see a bit more of what I do in the scripts. But only a bit.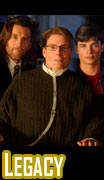 K-SITE: Is there any word as to who will be replacing you in the writers' room?
LOEB: Again, it's not about replacing me. The team continues. No one single person can be responsible for an entire television series -- even creators as talented as Al and Miles need a writing staff. As long as the show has Todd, Darren, Kelly and Brian, they are in great hands. Add to that my pals Stephen Steven DeKnight and Holly Harold and John Litvack and Greg Beeman and the new writers (Wendy and The Wicked Monkeys! who came in after I left) and nobody has anything to worry about, I'm certain. Smallville will fly just as high as it always has!
Thanks and I'll see you all on Weds... er... Thursday nights at 8:00 PM!
KryptonSite would again like to thank Mr. Jeph Loeb for taking the time to do this interview, and we wish him the best of luck in the future. Photo at the top of this article taken by Darren Swimmer.

Read a December 2002 interview with Jeph Loeb about "Insurgence"
"Legacy" Jeph Loeb interview - March 2004