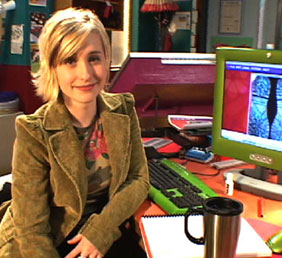 This interview is not to be reprinted in any form without the permission of KryptonSite or SullivanLane.
Chloe Chronicles: Behind The Scenes
An interview with Smallville web producer Mark Warshaw
By Kat Picson aka Sullivan Lane (katpicson@yahoo.com)
First of all, Mark Warshaw, the man who produces Smallville's official online show content says: "If you're a Chloe Sullivan fan, you will want to see the Chloe Chronicles. It's 100 percent, unadulterated Chloe - just Allison [Mack] being passionate, her just going for it."
If that doesn't convince the legions of Chloe Sullivan and Allison Mack fans out there to check it out, I don't know what will.
Warshaw says that the snippets give Smallville fans a little extra of what they love - the episodes will feature Chloe Sullivan being one part investigative reporter and one part documentary filmmaker, possibly uncovering a gold mine of information regarding those little green meteorites we now are allowed to call "kryptonite."
The first episode will feature Chloe interviewing Belinda Jenkins, the wife of Earl Jenkins (from the episode "Jitters"). This interview will lead Chloe to a top-secret group of scientists that could hold the key to unraveling the entire mystery of the meteor rocks, showing the audience that yes, Chloe is still the investigative reporter we came to know in the first season.
Which brings us to the question: Does all of this have anything to do with those screen caps from "Witness" that show Chloe with Lionel Luthor? Warshaw's cryptic answer: "It'll all link together in a way."
Warshaw tells KryptonSite that "it will be worth it to stick around until the end. The third installment has Chloe in full 'snark' mode." The episodes feature Chloe doing what Chloe does best - displaying her quick wit and investigative reporting.
Starting tonight at 10 p.m. Eastern, AOL is releasing short episodes featuring Chloe Sullivan (keyword: Smallville). TheWB.com will begin featuring the episodes starting this Friday. The episodes will remain on AOL's Keyword: Smallville site at least until the season finale airs in May.

Special thanks to Mark Warshaw for taking the time to do this interview, and to SullivanLane (aka Chloe's biggest fan) for conducting this interview!
Are you involved with Smallville and would like to be interviewed at KryptonSite? We'd love to talk to you. E-mail us!


Superman For All Seasons
Smallville explores the story of a young Clark Kent and his place in the world on television. In the comics, this was very well illustrated in Jeph Loeb and Tim Sale's "Superman For All Seasons." This has been labeled a "must read" by many fans and also listed as the favorite Superman story of recent years by many. Check it out!
Smallville and its characters are copyright ©2003 Warner Bros. & DC Comics. This is a fan site and not authorized by the WB or DC. Page copyright ©2003 KryptonSite, unless the material is noted as coming from someplace else or being by an individual author. Smallville stars Tom Welling, Kristin Kreuk, Michael Rosenbaum, John Glover, John Schneider, Annette O'Toole, Sam Jones III, and Allison Mack.
PLEASE DO NOT TAKE GRAPHICS, NEWS, SPOILERS, ETC. FROM KRYPTONSITE WITHOUT FIRST ASKING PERMISSION AND PLACING A LINK TO KRYPTONSITE.COM. OR, JUST SEND PEOPLE OVER TO THIS SITE! THANKS!