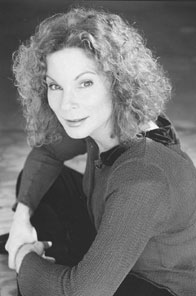 Camille Mitchell: Smallville's New Sheriff
By Craig Byrne - March 2003
This interview is not to be reprinted in any form without the permission of KryptonSite.
A new face will be coming to Smallville shortly, in the form of a new sheriff who won't be quite as easy to deal with as Sheriff Ethan before her. After all, as Jonathan Kent will tell you, what fun is a TV show without having the law on your tail?
Camille Mitchell will be playing Sheriff Nancy Adams on Smallville beginning with the April 22, 2003 episode, titled "Precipice." She took some time out of her busy schedule to talk about her role, and to get fans a little acquainted with this new Smallville face. Here's the interview:
KRYPTONSITE: What can you tell us about your character?
CAMILLE MITCHELL: Sheriff Adams is just a real down home gal. She loves being the new sheriff of Smallville. Um, she comes across as someone who's somewhat skeptical, suspicious. She's got a quirky sense of humor. But she really just wants to do a good job at being a sheriff. I think she has a real faith in the law, and she gets really frustrated when Clark and Lex start to take the law into their own hands. She's got a warm heart inside a really tough kind of exterior. I think she wants to be taken seriously. She talks about how the good ole boy days are over, that she felt the previous sheriff had really turned a blind eye to a lot of the things that went on. But, um, I think she's basically just trying to do the best job she can.
K-SITE: Was there a laugh on the set with the good ole boy line?
CM: Yes, there certainly was. It was a fun moment, 'cause I think John had read the script too, but I don't think he was paying that much attention to it. And so when I actually got to say the line the first time, the whole cast broke up, and so did he. It was very fun. He's a great guy. In fact, my first scene was that scene, and it was great to start in the heart of the Kent household. They're such warm and welcoming people. All the cast, the actors, everyone was just so nice. It made me feel very at home, you know.
I should say in terms of the character Sheriff Adams, she loves Lana's cappuccinos.
K-SITE: And does she like Lana?
CM: Yes, she does. I think she really admires that Lana drop kicks this bad guy.
K-SITE: Was it one of your best experiences doing television?
CM: I'd say it's definitely one of the nicest experiences I've ever had. The crew is wonderful. The cast is really friendly and fun and hard working and it's a pleasure to go there. It's really a pleasure to go to work there. I love it.
K-SITE: Were you familiar with the show at all before you auditioned?
CM: I was. In fact, it's a show that I have enjoyed watching. And it's funny, because when I moved back to Vancouver a couple years ago with my family, and we're at the airport, and there's a long line at customs, we were chatting with this very nice lady who was talking about how she has to fly back home every weekend to L.A. because she's doing this new Superman, and she wasn't sure if it would be a success. And we were chatting, and we said well, we'll have to watch it. Of course it was Annette O'Toole, and of course the show is a huge success. So I mentioned that to her the other day, and she thought it was just a funny coincidence. I remember it specifically because my son is 11 years old, and he was very interested there was a show about Superman.
K-SITE: Who did you get to work with?
CM: I got to work with Mr. and Mrs. Kent, Clark and Lana, Lex, Chloe and Pete.
K-SITE: So you got everybody?
CM: Yeah, I was really lucky. I just finished my third episode yesterday, and I've been very lucky. I got to work with them all, meet them all, and it's been a pleasure.
K-SITE: Does your character have any history with the Kents?
CM: I don't know yet. It'd be interesting if she did, wouldn't it?
K-SITE: Had you worked with any of the cast or crew before?
CM: Yes. Also, the episode "Precipice," my first episode, Dr. Helen Bryce, who as you know is Emmanuelle Vaugier. She and I had guest starred on an Outer Limits a few years ago, and in the new Ann Wheeler movie called Suddenly Naked which just came out on DVD a little while ago. And I'd also worked with the camera department. They're just awesome. They're so wonderful. J.D., and Chris McMullen, on a few other shows. They do an awesome job. I think Barry Dunleavy and his crew are just amazing. The look of the show is so great. And also I'd worked years ago with our on-set wardrobe man, Steve. He had worked with me when I did a Shakespeare, I played Viola in Twelfth Night, and he worked in wardrobe back then. So that was fun.
K-SITE: What was the Smallville experience like for you?
CM: I loved it. My first day, I was quite nervous, and I did the first scene with the Kents at the farm, and John Schneider, Annette O'Toole, and Tom Welling were in the scene, and they put me right at my ease. They were so kind, and encouraging, and helpful, and wonderful. And the crew - - everyone. Tom Wright directed and Greg Beeman, the producer, came on the set, and he chatted a bit about how he felt the character should go, and it was just a beautiful experience. I love going back. And it's a very upbeat set. People appear to love what they do. And it's just really a fun set to be on.
K-SITE: Do you see Sheriff Adams ever putting Lionel Luthor in his place?
CM: Boy, wouldn't that be fun. I think that would be really fun.
K-SITE: Who do you think would win a fight?
CM: Uh, well I've got the six pack. I've got the gun. Lionel probably has nuclear power for all I know, but wouldn't that be fun? I think she really, really does believe in the law, and I think she believes that's how things should be handled, and I think it'd be really be fun to see her up against Lionel.
K-SITE: Maybe we will.
CM: Maybe we will, or even because she's always so suspicious of poor old Clark, you know, who's got - - who's got only the best of intentions, it'd be kind of fun too to maybe see her get rescued at some point, for herself to be put in some kind of jeopardy, and have Clark have to rescue her. Maybe that's a ways down the road, because I think once she trusts Clark, there's a bit of that conflict that would be missed.
K-SITE: What other projects do you have coming up that you'd like to promote?
CM: I just did a guest star spot on the Chris Isaak show. The episode is called "Rivals." That will be coming out in the Fall. And also one of my pet charities is an organization

called PAL Vancouver (http://www.palvancouver.org). It's one word. And we are trying to build affordable housing for people in the entertainment industry here in Vancouver. We're trying to raise $2.5 million Canadian by the beginning of May. We have a site in downtown Vancouver. So many actors, actresses, camera people, technicians, everybody - - they work 14 hour days, they work really hard, and it's a freelance job, so people really go from job to job to job and as they get older, they might not be in the best financial shape, and that's what this home is about. It's to help people in the industry to live in a lovely place when they don't have the funds to do it on their own.
K-SITE: What previous work in your career are you the most proud of?
CM: I would have to say that I was working many years in reps, in classical theatre at the Stratford and Shaw Festivals, and, um, where you do a different classical performance every day, and you'd be working six days a week, eight to nine shows a week, for about ten months. I think just having survived it. And it was a grueling schedule, but artistically it was just so fulfilling to be doing that work.
K-SITE: How do you like Vancouver?
CM: I was born in L.A., and I was raised in Vancouver, so I do love it. It's a moody city, with the rain and the mist and so on, but I do love it up here.
Be sure to watch "Precipice" Tuesday, April 22, 2003 on the WB! Thanks to Camille Mitchell, Eric, and TST-Matt for making this happen.